If you want to bet on the Chiefs & for all online betting in the USA go to USAbetting.com.


Williamson: Bowe takes big step back with suspension

Dwayne Bowe had fought out of Todd Haley's doghouse. He just worked his way back into the bad graces of the organization.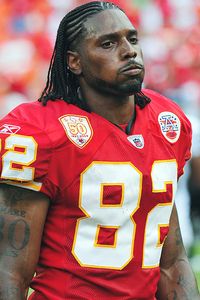 Denny Medley-US PRESSWIRE
Dwayne Bowe's four game suspension makes his future with the Chiefs unclear.


The Chiefs put out a release Tuesday saying the NFL has suspended their No. 1 receiver four games for using performance enhancing substances. This is another mark on the reputation of Bowe and another blow for the 2-7 Chiefs in a tough season.

Bowe, a first-round draft pick in 2007, entered the Haley era as one of the team's most talented players. He had 156 catches in his first two NFL seasons. But he didn't start well with Haley. He battled weight problems and had trouble holding onto the ball. Haley sent Bowe and the entire team a message by making him a third teamer during the preseason.

Bowe reacted well to the demotion and has been playing well. Bowe has 33 catches for 466 yards and four touchdowns. Bowe had six catches for 91 yards in Kansas City's win at Oakland on Sunday.

Bowe and Kansas City quarterback Matt Cassel appear to be on the same page and could be a solid tandem for years to come. Helping the cause has been the addition of No. 2 receiver Chris Chambers. He has played very well in the two games he's been with the Chiefs since being claimed off waivers from San Diego.
continue reading...

AFC honors Chiefs' safety
Safety Mike Brown of the Kansas City Chiefs, who only a week earlier blamed a loss to Jacksonville on his own missed tackles, has been named AFC defensive player of the week for his efforts in the win over Oakland.

In the 16-10 victory Sunday at Oakland, Brown had a career-high two interceptions and four passes defensed. His first interception was converted into Ryan Succop's 31-yard field goal. His second came off a dropped pass that killed Oakland's bid for a game-winning TD drive at the Chiefs 10 with 38 seconds left.

Just the week before, however, Brown said his failure to make two touchdown-stopping tackles in the open field caused Kansas City to lose a 24-21 game in Jacksonville.

Brown is the first Chiefs safety to win the honor since Jerome Woods in 1997. In 2001 when he was with the Chicago Bears, Brown was the NFC defensive player of the week.
Babb: Chiefs' Dwayne Bowe suspended by NFL for four games
Chiefs wide receiver Dwayne Bowe has been suspended four games for violating the NFL's policy on performance-enhancing substances.
League spokesman Corry Rush announced the suspension in an e-mail, and the Chiefs have acknowledged Bowe's suspension.
In a news release, the Chiefs said Bowe's suspension will begin immediately.
"As a result of the league suspension, the team will have no further comment," the Chiefs' news release said.
Babb: LJ signs with Cincinnati, and it's tough to argue that he doesn't win in all this
Sure, the Chiefs might be better off without Larry Johnson and his 2.7-yard rushing average. Their depth chart might be better off with Jamaal Charles at the front of the line instead of an aging, loudmouth, moody running back whose production slipped, really, two years ago. And Kansas City's locker room might be better off without LJ, the brooding teammate that others watched and waited for a blowup.
But there's no question that Larry Johnson is better off in Cincinnati. He signed this morning with the Bengals, completing a "punishment" that gets him to a better team and barely hits him in the pocketbook.
The Chiefs were concerned two weeks ago that, if LJ were simply released after he used Twitter as his personal insult-hurling launch pad, players might interpret that as, if they want out of Kansas City, all they have to do is mouth off. Now, the Chiefs have a real problem, because not only did LJ slur and tweet his way out of Kansas City, but it landed him in a far better position.

Williamson: Johnson could face Chiefs in Week 16
It looks like Larry Johnson has found a home. ESPN's Michael Smith is reporting Johnson is expected to sign with the Cincinnati Bengals.

Johnson's agent, Peter Schaffer, told ESPN.com last week that he'd wait to Monday to make a deal. That plan worked out because Cincinnati running Cedric Benson was injured Sunday.

This is an ideal situation for Johnson because he is going to a winning team, if he does end up signing with the Bengals. They are 7-2.
continue reading...

ESPN: Bengals-Johnson union imminent?
Former Kansas City Chiefs running back Larry Johnson was en route to Cincinnati on Monday and, barring a last-minute breakdown, he expects to sign with the AFC North-leading Bengals, a source familiar with the negotiations told ESPN's Michael Smith.

A deal, if consummated, is expected to be for the prorated league minimum. Coach Marvin Lewis said Monday that Johnson would be fourth on the team's depth chart at running back.

The Bengals, along with several other teams, first expressed interest in Johnson last week as depth behind Cedric Benson, who suffered a hip injury in Sunday's 18-12 victory at Pittsburgh.

Benson might be available to play Sunday in Oakland, Lewis said, adding that the team's interest in Johnson isn't related to Benson's injury.

If Johnson learns the offense quickly, it stands to reason he could be active for the Bengals against the Raiders.

The Chiefs released Johnson last Monday, the day he was due back from his second (two-week) suspension in the past 12 months. His last brush with controversy came two weeks ago when he posted on his Twitter account a gay slur, insulted followers and questioned the competence of head coach Todd Haley.
BR: Todd Haley's Choice: Kolby Smith?
If you've listened to any of the Todd Haley press conferences in the past two weeks, you can sense the inner-struggle with the Chiefs head coach to remain positive regarding recent headlines. You can also sense who he wants to be the Chiefs starting running back.

More losses, turmoil surrounding the ex-Chiefs Larry Johnson, and a coach struggling to find any answers on the field are just a few of the topics that Haley has to address in most press conferences.

In recent weeks Haley's emotional spectrum has traveled anywhere from disappointed, to confused, to happy. Haley, who is known for his fiery outbursts on the sidelines, keeps his temper in check when indoors. In fact, he's almost dull when it comes to answering the media's questions. That is except for when asked about Kolby Smith.

It's happened a few times now, a Kansas City media member asks something to the extent of how Jamaal Charles is looking as a primary ball carrier. Haley always answers in his best Ben Stein voice something close to "I think Jamaal is finally starting to get it. He had some struggles in training camp and in the early part of the season, but is starting to come together." This answer is essentially the PC answer for "He's OK".
continue reading...

Covtiz: The odds on anyone signing Johnson are
It's my humble opinion, but barring a catastrophic turn of events in which a team's entire running back corps is wiped out, no NFL team is going to touch Larry Johnson this season.
The aggrevation factor totally outweighs his production.
At this point of the season, teams in the playoff race don't want to disrupt their chemistry. And teams out of the race need to look at their young players, not some 30-year old trouble-maker.
<< Previous 1 2 3 4 5 6 7 8 9 10 11 12 13 14 15 16 17 18 19 20 21 22 23 24 25 26 27 28 29 30 31 32 33 34 35 36 37 38 39 40 41 42 43 44 45 46 47 48 49 50 51 52 53 54 55 56 57 58 59 60 61 62 63 64 65 66 67 68 69 70 71 72 73 74 75 76 77 78 79 80 81 82 83 84 85 86 87 88 89 90 91 92 93 94 95 96 97 98 99 100 101 102 103 104 105 106 107 108 109 110 111 112 113 114 115 116 117 118 119 120 121 122 123 124 125 126 127 128 129 130 131 132 133 134 135 136 137 138 139 140 Next >>