If you want to bet on the Chiefs & for all online betting in the USA go to USAbetting.com.


Foxworth ready to face Bowe
Domonique Foxworth
has played against
Dwayne Bowe
three times in the past two seasons and has a wealth of information on the
Kansas City Chiefs
wide receiver.
Foxworth, however, doesn't plan on relying on that information when Bowe and the Chiefs visit the Ravens on Sunday in the season opener for both teams at
M&T Bank Stadium
.
"It's not more of an advantage than watching film," the cornerback said of his previous matchups with Bowe. "I think that's the best way to prepare, go into the game with no preconceived notions about an individual. Just watch the film and use that to prepare."
The 23rd overall pick in the 2007 draft, Bowe has lived up to expectations, leading all rookies in catches (70) and yards (995) in 2007 and ranking 10th in the
NFL
in receptions (86) last season.
continue reading...
Chiefs quarterback Cassel says knee fine, waits on coach
Kansas City Chiefs quarterback Matt Cassel says he is ready to play in Sunday's season-opener against the Baltimore Ravens but that he will abide by the decision of his coach.

The 27-year-old sprained his left knee in Kansas City's pre-season game against the Seattle Seahawks on August 29 and was sidelined until he returned to team practice on Monday.

"I feel fine," Cassel told the team's official website (www.kcchiefs.com) on Thursday. "I feel mentally right where I should be and physically, I am getting better each and every day.

"As long as I feel right, the coach makes the decision. For the end result, we come together and collaborate and if we say that I am ready to go, I will be out there on Sunday."
Study: Chiefs tickets priced above NFL average
A ticket to Kansas City Chiefs game at Arrowhead Stadium costs more than the National Football League average, according to Team Marketing Report, a publisher of sports marketing and sponsorship information.
The Chiefs have the league's eighth highest average ticket price at $80.69.
It's well below the average ticket cost of $159.65 to attend a Dallas Cowboys' game inside their glitzy new stadium. However, the cost for a ticket to a Chiefs' home game is still above the NFL average price of $74.99, which is up 4 percent from a year ago.
Chiefs still not sure if Cassel will play
Kansas City Chiefs quarterback Matt Cassel acts like he's ready to play. He hasn't missed a practice this week. He knows the game plan. He's said the right things, that he feels good enough to go.

Now, it's up to the coaches.

"As long as I'm able to walk and get out there, I will be ready to go," Cassel said Thursday. "It's up to them to pull me back."

So does that mean Cassel will play Sunday against Baltimore? Too early to tell.

Cassel sprained his left knee in Kansas City's third preseason game Aug. 29. He returned to practice Monday and was on the field the past two days. Though he's getting better every day, Cassel's been limited in what drills he can participate in, leaving the coaches with a hazy plan against the Ravens and their rugged defense.

"I think this is something that will go down to the wire with the quarterback," Chiefs coach Todd Haley said. "On game day, we'll still be trying to figure it out."
BR: Chiefs vs. Ravens: In-Depth Analysis and Game Plan For Week One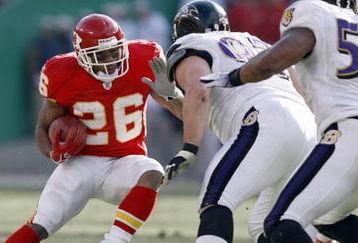 The Ravens don't have what you would call a "high powered offense." If the Chiefs can put some points up on the board (17 or so), they have a shot at winning this game.
The Chiefs are really hoping Matt Cassel is going to be healthy enough to play Sunday, as that gives them a lot more options throwing the ball. If he is not ready to go, more than likely Brodie Croyle will get the start.
Even if Cassel's leg is ready to go, the game plan will be the old cliché—"Run the ball, and stop the run."
The left side of the offensive line (Brandon Albert, Brian Waters, Rudy Niswanger) has been together for a year now, and they have developed some chemistry with each other. Look for the Chiefs to take advantage of this and run left much more than they run right.
Running the ball effectively will keep the Baltimore defense on the field more than they want to be, and while they are very good, they are also old. Wearing them down will be easier now than in past years.
Williamson: Chiefs take a look at Runyan
Per Bill Williamson of ESPN.com



The Kansas City Chiefs gave a tryout to former Pro Bowl tackle Jon Runyan on Wednesday.

This is an interesting development. The Chiefs desperately need help at tackle and Runyan has been looking to get back into the league. If Runyan was impressive in the tryout, I would not be surprised if he were quickly signed by the Chiefs.

Kansas City has plenty of salary-cap room, so money won't be an issue. At this point, the Chiefs, who cut tackles Damion McIntosh and Barry Richardson in the past few days, aren't going to find a better option than Runyan, a former Philadelphia standout. This would be a good pairing.

continue reading...

Tucker: Setting a tough-love tone in Kansas City
In the 50-year history of the Kansas City Chiefs, there may never have been a time when it was tougher to play for the team.

No doubt, there have been seasons when abundant talent created tougher competition for jobs. But once on the roster, there may not have been a year when players felt greater pressure or less security.

A long snapper, for example, failed to get onto the field for a quick drill and found himself unemployed, his job suddenly back in the hands of the very guy he took it from.

A Pro Bowl guard got dressed down in a hallway meeting with his new head coach. Then, because he hadn't called ahead and made an appointment, the acclaimed team leader couldn't even get in to meet his new general manager.

Starting offensive linemen are dumped in the final week of training camp, a few days after the offensive coordinator is dismissed.
RedZone: It sure looks like Cassel
About 30 minutes of today's practice was open to the media and though the Chiefs did no team drills during tha time, it still appeared Matt Cassel is the starting quarterback.
Cassel was first in line for all of the QB drills during that time. That's a spot almost always reserved for the starter. In one drill, Cassel was the passer throwing to starting wide receivers Dwayne Bowe and Mark Bradley. The other quarterbacks threw to the backup receivers.
<< Previous 1 2 3 4 5 6 7 8 9 10 11 12 13 14 15 16 17 18 19 20 21 22 23 24 25 26 27 28 29 30 31 32 33 34 35 36 37 38 39 40 41 42 43 44 45 46 47 48 49 50 51 52 53 54 55 56 57 58 59 60 61 62 63 64 65 66 67 68 69 70 71 72 73 74 75 76 77 78 79 80 81 82 83 84 85 86 87 88 89 90 91 92 93 94 95 96 97 98 99 100 101 102 103 104 105 106 107 108 109 110 111 112 113 114 115 116 117 118 119 120 121 122 123 124 125 126 127 128 129 130 131 132 133 134 135 136 137 138 139 140 Next >>