If you want to bet on the Chiefs & for all online betting in the USA go to USAbetting.com.


Teicher: Chiefs acquire offensive linemen

Intent on building some depth on the offensive line, the Chiefs traded with Miami today to acquire Andy Alleman and Ikechuku Ndukwe. The cost was an undisclosed pick in the 2010 draft.

Alleman can play either guard or center. He was the third-round pick of New Orleans in 2007 and made four starts for the Dolphins last season.

Miami Dolphins trade Alleman, Ndukwe to Chiefs

The Miami Dolphins Monday traded offensive linemen Andy Alleman and Ikechuku Ndukwe to the Kansas City Chiefs in exchange for an undisclosed 2010 draft choice.

Alleman, a backup interior lineman, played in 16 games last season for the Dolphins. He started five games, including the playoff loss to Baltimore, as Justin Smiley's replacement at left guard.

The former Akron standout, who was drafted in the third-round by the Saints in 2007, had been working as the backup left guard and third-team center during training camp.

But Donald Thomas' emergence as the starting right guard, Shawn Murphy's recent progress, and Joe Berger's signing as the backup center made him expendable.
continue reading...


Babb: Chiefs leave a few broken hearts as they part ways with River Falls, Wis.
For a generation of summers, Craig Foster had a routine. Months before the Kansas City Chiefs arrived here for their summer training camp, Foster would order a basement full of Chiefs merchandise for Foster Sports, his store on Main Street. Then he'd keep it in hiding for 11 months.

This is Wisconsin, after all, a state that belongs to the Green Bay Packers. But Foster knows an opportunity when he sees one, and two weeks before the Chiefs would get here, he'd spend a week transforming a store packed with green and gold T-shirts into one covered in Chiefs red.

Kansas City Chiefs launch new web site and get an "A"
After several years of lagging behind the rest of the NFL, the Kansas City Chiefs launched their newly redesigned web site last Thursday morning. And, considering the train wreck that they used to put out, the new site is comparable to some of the best in the NFL.
The Chiefs site,www.kcchiefs.com, has a whole new look, a more user-friendly navigation system, and seemingly much more content for the fans. For fans, the highlight of the new site is the Chiefs 365 area, a new social community with message boards, fan blogs, and user-generated video and photo sections. By the way, the Chiefs have a VERY funny spoof of "The Office" on the 365 page that hopefully is a harbinger of more great things to come. Kudos to the creative team behind it.
BR: Kansas City Chiefs, While Better, Show Room For Improvement Against Vikings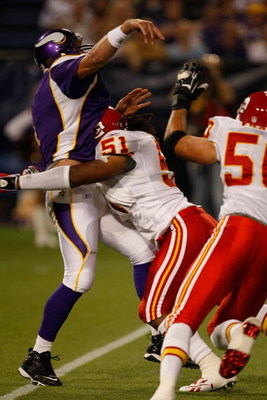 Leading up to Friday night's game against the Minnesota Vikings, everyone was talking about one thing: Brett Favre. The future Hall of Famer came out of retirement...again...to join the Vikings, and it just so happened that his first action as the new starting quarterback would come against the Chiefs.
Unfortunately for Favre, who had only three days to work with his new receivers, the Chiefs defense was up to the challenge.
Favre connected on only one of his four passes, a four-yard completion to rookie Percy Harvin, and left the night after a bone-crushing hit from linebacker Corey Mays.
Mays and the rest of the Chiefs starting defense did an excellent job against Favre and the NFL's leading rusher from a year ago, Adrian Peterson. The Chiefs held Peterson to 44 yards on ten carries, including a big fourth-and-one stop by Jarrad Page that killed Minnesota's opening drive.

Graziano: Matt Cassel Impresses In Spite of Chiefs' Offensive Line
The thinking was that Matt Cassel came into Friday night's preseason game against the Vikings on some kind of hot seat. Thanks to a cryptic interview session in which Chiefs coach Todd Haley refused to describe him as the team's best quarterback, there was some thought in Kansas City that Brodie Croyle might actually have a chance to overtake Cassel as the starter. Nevermind the trade that brought Cassel in, or the big contract extension they just gave him -- gotta play the best guy, right?

Well, Cassel sure looked like the best guy Friday, completing 9-of-14 passes for 99 yards and a touchdown. He was sharp, alert and very mobile all night, and that was a good thing, because the Chiefs' offensive line was cheesecloth and looks like the kind of unit that might make a quarterback wish for a spot on the bench.
"You know, sometimes you just get out there and run around," said Cassel, who actually picked up 13 rushing yards on a couple of broken plays.
continue reading...

Teicher: Cassel needs to play better
Matt Cassel wanted to be the quarterback of every Kansas City Chiefs fan's dreams right from the start of training camp.

"He wants everything to happen great right now," offensive coordinator Chan Gailey said. "He wants to be a great player right now, which is great. That's what you want from a quarterback. But these things take time."

Cassel hasn't often been a star on the practice field as the Chiefs wind down the northern portion of their training camp with tonight's preseason game at Minnesota. Between multiple turnovers, errant throws and four scoreless possessions in last week's preseason opener against Houston, Cassel's camp has been uneven at best.

That adds a sense of urgency for Cassel and the starting offense in tonight's game. The Chiefs might be just the sideshow for Brett Favre's Vikings debut, but production from their quarterback is still high on their to-do list.

Coach Todd Haley said Cassel and the rest of the starters can expect to play the first half.

"There's always a sense of urgency," Cassel said. "In preseason, you're trying to go out there and score points and have some production."
Williamson: What to watch for tonight
The Chiefs play their second preseason game Friday night at Minnesota. Kickoff is set 8 p.m.
Here's what to look for:
Matt Cassel: The new quarterback wasn't good in the first preseason game or in a scrimmage. With more playing time against the Vikings, Cassel needs to get into a rhythm.
Dwayne Bowe: After getting in the doghouse and being demoted to the third string, Kansas City's best receiver needs to get some in-game action with Cassel so the two develop a feel for each other.
<< Previous 1 2 3 4 5 6 7 8 9 10 11 12 13 14 15 16 17 18 19 20 21 22 23 24 25 26 27 28 29 30 31 32 33 34 35 36 37 38 39 40 41 42 43 44 45 46 47 48 49 50 51 52 53 54 55 56 57 58 59 60 61 62 63 64 65 66 67 68 69 70 71 72 73 74 75 76 77 78 79 80 81 82 83 84 85 86 87 88 89 90 91 92 93 94 95 96 97 98 99 100 101 102 103 104 105 106 107 108 109 110 111 112 113 114 115 116 117 118 119 120 121 122 123 124 125 126 127 128 129 130 131 132 133 134 135 136 137 138 139 140 Next >>