If you want to bet on the Chiefs & for all online betting in the USA go to USAbetting.com.


PFT: Zach Thomas remains on the sidelines

By all accounts, new Chiefs coach Todd Haley has run a rugged first training camp, complete with more hitting than the team has seen since Marty Schottenheimer was watching the action through his gigantic eyeglasses. (Always ahead of the fashion trends, that Schottenheimer.)

All of the padded work has left some players hurting, with inside linebacker Zach Thomas foremost among them. Thomas hasn't suited up in more than two weeks because of an unspecified injury, and it's unclear when he'll return.

Expected to be a leader of Kansas City's hodge-podge defense, Thomas has spent most of camp on an exercise bike. That has left a big gap in the team's linebacker group.

continue reading...


As Zach Thomas recovers, Corey Mays is making most of his chance
Another day passed, and two more practice sessions concluded without the linebacker elected two months ago as the de facto leader of the Chiefs defense. As Kansas City went through its final two-a-day session of training camp, Zach Thomas spent another morning on a stationary bike. More news
Top pick Jackson, defence has some catching up to do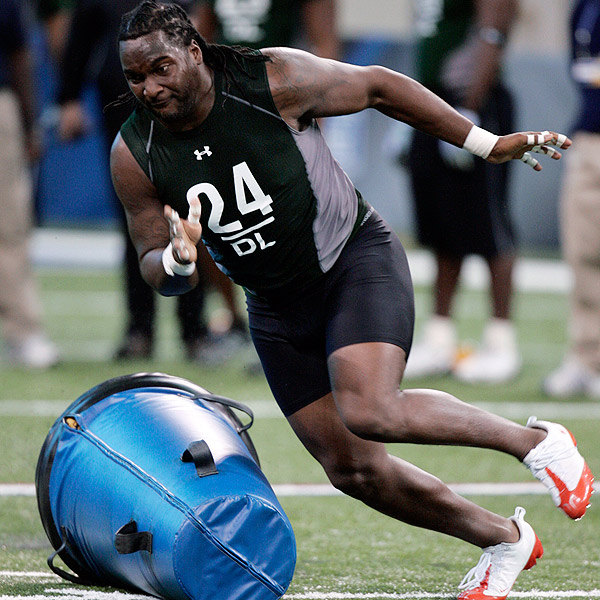 Tyson Jackson didn't make excuses, and he didn't stretch the truth. He admitted Saturday night that he's behind, and because of that and other factors, the Chiefs' defense might be behind, too.
Williamson: Camp Confidential: Chiefs toughening up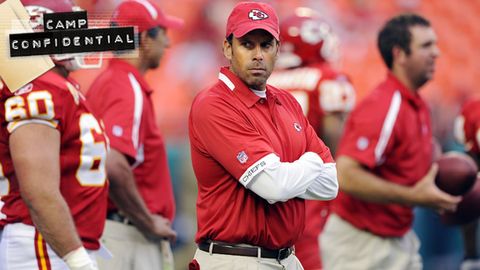 The
Kansas City Chiefs
are tired.
And they should be.
Camp Haley has been no pleasure cruise.
The Chiefs, who break camp Thursday, have undergone a harsh transition from the cushy Herm Edwards days to the no-breaks, harsh methods of new coach Todd Haley. Mimicking new general manager Scott Pioli's humorless ways, Haley has not been easy on his troops.
It's all about making the Chiefs -- who have won a total of six games the past two years -- "hard to beat," Haley said.
"I think this camp had to be tough," Haley said Wednesday. "We need a mental toughness .... I've been on teams that have turned it around and each of those teams needed to get tougher."
Williamson: Cassel's approach impresses Haley
Some Chiefs fans have gotten nervous about new quarterback Matt Cassel because he struggled in a scrimmage and was not overly impressive in Kansas City's preseason opener.

Kansas City coach Todd Haley, however, is not concerned. In fact, he has been quite impressed with the quarterback, whom the Chiefs traded for this offseason.
Burke: How's Matt Cassel Performing? Todd Haley Will 'Hold Out on Answering That'
To cut right to the chase, the Kansas City Chiefs have put a lot of faith in quarterback Matt Cassel. Back in February, K.C. acquired the surprise 2008 star with the full intention of making Cassel its franchise QB -- a decision backed by the $15 million tender Cassel signed for 2009, then later, the five-year, $60 million extension the Chiefs gave him.

Money for a backup quarterback, that is not.

But the transition hasn't been confidence-inspiring in the preseason. Cassel's struggled so much lately, in fact, that when asked Tuesday whether Cassel has been the Chiefs' best quarterback thus far, new K.C. head coach Todd Haley responded, "I'll hold out on answering that right now."

Why the hesitation?

Well, Cassel has had issues through camp protecting the ball -- he had a three-turnover performance an intrasquad scrimmage -- then struggled again in the Chiefs' preseason opener against Houston. He completed just two-of-five passes for 15 yards versus the Texans, and coughed up a fumble.
continue reading...

Studebaker struggling to go from Div. III to NFL



People who like to cheer for the underdog will love Andy Studebaker.

The second player from tiny Wheaton College to be drafted into the NFL - first in the modern era of the draft - Studebaker is struggling to win a starting job in the NFL.

Like many defensive players in Kansas City's camp, the second-year pro is switching from defensive end to linebacker in the Chiefs' new 3-4 alignment.

The competition is heated and as a Division III player, Studebaker didn't benefit from the topflight coaching and instruction that players from BCS schools enjoy. But Chiefs coach Todd Haley is happy with Studebaker's progress, and very happy with the way he played in last weekend's 16-10 loss to Houston in the preseason opener.

continue reading...

Teicher: Throwing to the running backs
Todd Haley was pleased by the number of passes quarterbacks made to running backs in this morning's practice. Larry Johnson, Jamaal Charles, Dantrell Savage and even fullback Mike Cox caught at least one pass. Rookie Javarris Williams had one thrown his way, but he dropped it.
"I saw a lot of checkdowns, a lot of throws to the backs, which I'm not ever going to be disappointed in," Haley said. "That's something we talked about in the off-season, utilizing the running backs in the pass game. That's just something I've continued to stress to the offensive coaches that we can't forget about the backs.
<< Previous 1 2 3 4 5 6 7 8 9 10 11 12 13 14 15 16 17 18 19 20 21 22 23 24 25 26 27 28 29 30 31 32 33 34 35 36 37 38 39 40 41 42 43 44 45 46 47 48 49 50 51 52 53 54 55 56 57 58 59 60 61 62 63 64 65 66 67 68 69 70 71 72 73 74 75 76 77 78 79 80 81 82 83 84 85 86 87 88 89 90 91 92 93 94 95 96 97 98 99 100 101 102 103 104 105 106 107 108 109 110 111 112 113 114 115 116 117 118 119 120 121 122 123 124 125 126 127 128 129 130 131 132 133 134 135 136 137 138 139 140 Next >>