If you want to bet on the Chiefs & for all online betting in the USA go to USAbetting.com.


Babb: Chiefs coach Haley says Kansas City is undergoing a crisis of confidence

Chiefs coach Todd Haley said Monday morning that the Chiefs' biggest problem right now, along with their wide receivers, is that the team very little confidence. That's not a surprise, after the past two seasons, in which the Chiefs combined for six wins.

Now, Haley said, Kansas City is trying to figure out how to do the little things to defeat other teams.

"We've got to learn how to win," Haley said.

Coaches often say that losing becomes habitual, and Haley has said it became clear to him that it's not only among the Chiefs' bad habits, it's also part of the team's culture.


Covitz: FOX Sports hires Trent Green
Former Chiefs quarterback Trent Green is one of three former NFL players hired as game analysts for games carried by FOX Sports this season.
Green, who retired after a 14-year career following the 2008 season with St. Louis, joins John Lynch and Charles Davis as part of FOX's seven NFL crews.
Green, who spent 2001-2006 with the Chiefs, will partner with Chris Myers. His first game will be Detroit at New Orleans in week one.
AP: Chiefs sign wide receiver Lelie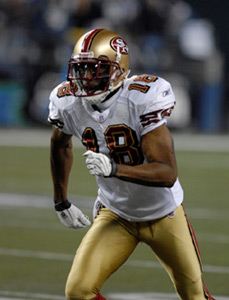 The Kansas City Chiefs have signed free agent wide receiver Ashley Lelie.

The Chiefs on Monday said they signed the seven-season veteran, who has caught 217 passes for 3,749 yards and 15 touchdowns over 107 games. The first-round draft pick out of Hawaii in 2002, he has played for Denver, Atlanta, San Francisco and, most recently, Oakland.

Kansas City also waived wide receiver Jeff Webb, who played 31 games in three seasons with the Chiefs, catching 36 passes for 382 yards and a touchdown.

© 2009 Associated Press. All Rights Reserved.The Kansas City Chiefs have signed free agent wide receiver Ashley Lelie.
Williamson: Breaking down the Chiefs' game
Random thoughts from the Chiefs' 16-10 preseason opening loss to visiting Houston:
It's time coach Todd Haley puts receiver Dwayne Bowe back on the first team. Bowe, who had 156 catches in his first two NFL seasons and who is far and away the Chiefs' best receiver, was shaken down all the way to the third string last week. Five very average Kansas City receivers played in the first quarter Saturday night and Bowe didn't play until the second quarter.
Bowe had five catches and beat up on much lesser competition. Ok, coach, your point has been made. Get the guy back with the first team. The Chiefs' chances are much better with Bowe playing. Plus, Bowe and quarterback Matt Cassel have to develop a game rhythm in the preseason. Bowe has to work with the first team in next week's game.
Althaus: Chiefs, Haley still have much to work on
Mother Nature and the Houston Texans rained on Todd Haley's parade Saturday night at Arrowhead Stadium, yet the first-year Kansas City Chiefs head coach found a rainbow through the gloom of a 16-10 preseason setback.
"It was an exciting night for me," said Haley, who was working his first NFL game as a head coach. "It wasn't what I was looking for, but I thought it was appropo that we started with this kind of weather – considering what we are looking for.
"We made far too many mistakes, and you can't win many games when you're successful on 23 percent of your third-down plays (3 of 13). A lot of responsibility comes with being a head coach – I found that out tonight."
While the offense sputtered most of the night, there were a couple of bright spots.
Dean: 'New' look seems frightfully familiar
The "new look" Arrowhead Stadium didn't seem significantly different in its rain-soaked Saturday night debut.

But that's only appropriate. For neither did Todd Haley's "new look" Chiefs in their 16-10 loss to Houston in the preseason opener.

Let's deal with the stadium first, as the outlook for improvement is brighter there.

The lower level concourses, which were downright congested in the days when 77,000 people packed into a Chiefs game, are wider, brighter and considerably easier to negotiate.

But that's damning with faint praise. For there weren't many more than 50,000 people here Saturday, and that estimate may be generous.

The new end zone scoreboards also are brighter, sharper and much easier on the eyes. That's a positive. The new wraparound ribbon boards also are bright, and that's not necessarily good. Ribbon boards everywhere are irritating as they continually flash more advertising than information. They're like flash cubes that never quit. They stay in your peripheral vision longer than a bikini-clad woman you're trying to check out in the company of your wife.
PFT: Bowe's benching is working

Five Kansas City wide receivers played in the first quarter of Saturday night's preseason game against the Texans, and Dwayne Bowe wasn't one of them.

Despite averaging over 1,000 yards in his first two seasons, Chiefs coach Todd Haley continues to try to send a message to Bowe because Haley isn't happy with Bowe's work habits.

The tough love appears to be working.

Bowe entered with the third team offense, and he caught five passes for 70 yards in two quarters, playing against many guys who probably won't be in the league this year.

His production isn't surprising, but Bowe's reaction to his catches is more so. Bowe didn't perform any of his trademark celebrations or demonstrations after making first downs. (With Reggie Williams out of the league, Bowe could contend for the league lead in celebrations-per-catch.)
continue reading...

AP: Sloppy start
There's nothing like playing the first preseason game in a driving rain to cause a lot of slipping and sliding and missed assignments.
There was plenty of that on both sides, but less by the Houston Texans, who beat Kansas City, 16-10, Saturday night in a pounding rain.
"It was a very sloppy night weather-wise, and whoever plays the best defense and whoever doesn't put it on the ground usually finds a way to win in this league," said Houston coach Gary Kubiak. "I was glad we did, but we paid a price. We have some guys banged up, and that usually happens when you get out there in a mess like that."
Reserve quarterback Rex Grossman had to leave in the fourth quarter due to a hamstring injury.
"It looks like he has a pretty good hamstring," Kubiak said. "The first play when he went in he booted and said he felt his hamstring pull or pop, or whatever. So we'll have to wait and see."
<< Previous 1 2 3 4 5 6 7 8 9 10 11 12 13 14 15 16 17 18 19 20 21 22 23 24 25 26 27 28 29 30 31 32 33 34 35 36 37 38 39 40 41 42 43 44 45 46 47 48 49 50 51 52 53 54 55 56 57 58 59 60 61 62 63 64 65 66 67 68 69 70 71 72 73 74 75 76 77 78 79 80 81 82 83 84 85 86 87 88 89 90 91 92 93 94 95 96 97 98 99 100 101 102 103 104 105 106 107 108 109 110 111 112 113 114 115 116 117 118 119 120 121 122 123 124 125 126 127 128 129 130 131 132 133 134 135 136 137 138 139 140 Next >>