If you want to bet on the Chiefs & for all online betting in the USA go to USAbetting.com.


PFT: Chiefs Get Brown On Board

Another day, another rookie signing that helps fill in the news gaps during these dog days of summer.

The Chiefs have agreed to terms with fifth-round pick, OT Colin Brown from Missouri.

Adam Caplan of Scout.com reports the three-year deal is worth nearly $1.34 million, with a signing bonus of close to $154,000.

Chiefs to retire Derrick Thomas' number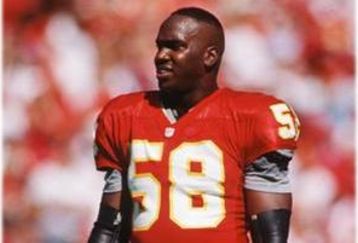 The Kansas City Chiefs will celebrate the Pro Football Hall of Fame induction of late linebacker Derrick Thomas this season by retiring his number.
Thomas' No. 58 will never be worn again in Kansas City. He will be inducted into the Hall of Fame in August. Former Kansas City general manager Carl Peterson will present Thomas into the Hall.
Thomas' family will receive his Hall of Fame ring at Arrowhead Stadium on Dec. 6 when the Chiefs host Denver. Thomas is the 10th Kansas City player to be inducted. Thomas died in 2000 because of complications following an auto accident. He had a franchise-record 126.5 sacks in a Kansas City career that spanned 1989-99.
Crossland gets Chiefs camp contract
A Kansas company has been selected to build the Kansas City Chiefs' indoor practice facility at Missouri Western State University.
Crossland Construction, Columbus, Kan., submitted a base bid of $9.4 million, the lowest of 14 general contractors competing for the building project.
Jeff Ellison, lead architect on the project, recommended to Western's governing board to accept seven of eight alternate bids Crossland submitted, which brings the total to $10.3 million.
PFT: Chiefs Cutting The Fat
Kansas City Chiefs coach Todd Haley hasn't confined his wrath toward players' miscues on the field.
He's just as intolerant about the mistakes players make off the field when they demolish a buffet or a few plates of that delicious Kansas City barbecue. [Editor's note: Thanks to The Green Mile, I can never hear the word "barbecue" again without thinking of this.]
So, Haley directed the Chiefs to lose a combined 340 pounds this offseason partially, due to his belief that the AFC West franchise simply didn't work hard enough last year, outlining his intense approach during an interview with Sam Farmer of the Los Angeles Times.
That get-fit directive has included mandatory weigh-ins every week, extra conditioning drills, and Haley personally monitoring workouts. Plus, the former Arizona Cardinals offensive coordinator set a personal example by dropping down to 192 pounds from 217 pounds.
Babb: As training camp approaches, Chiefs' O-line answers seem far away
The Chiefs moved closer to training camp last week, and the team's most pressing question is the same one it faced before offseason practice and, really, throughout the last two seasons: How reliable is the offensive line?
First-year coach Todd Haley acknowledged last week that he is uncertain of the line's readiness, even after three months of organized team activities and a minicamp. Haley's hesitation centers in part on the lack of physical contact between the offensive and defensive lines during the less demanding offseason practices, leaving coaches to measure only mental awareness and unchallenged technique.
But the Chiefs' bigger problem is that their best offensive lineman, four-time Pro Bowl guard Brian Waters, hasn't made it clear he'll play in Kansas City this season, and that leaves a gaping hole in a unit that couldn't afford even a small hiccup.

LA Times: Mark it down: Chiefs buck trend, show yen to lose pounds

The Kansas City Chiefs just might be the biggest losers in the NFL.

And that's good news.To be specific, the Chiefs have lost a combined 340 pounds this year -- and not, say, by cutting some rotund defensive tackle. They lost the weight through hard work, something apparently in short supply when the team went 2-14 last season.

"We were out of shape and not really strong," said new Coach Todd Haley, who has put a premium on his players dropping some pounds. "I talked to our strength coach at Arizona (where Haley was offensive coordinator last season) and he said if you're a highly efficient team that's working, you lose about 120 to 150 pounds in the off-season."

The Chiefs face more than their share of hurdles. With a defense that produced an NFL-record-low 10 sacks last season, and an offense in transition -- and missing All-Pro tight end Tony Gonzalez -- Kansas City would do well to win six games this season.

continue reading...

Chiefs Waive Four Players
KANSAS CITY, Mo. -- The Kansas City Chiefs have waived four players.The Chiefs announced on Friday that they have waived long snapper Thomas Gafford, wide receiver C.J. Jones, defensive tackle T.J. Jackson and linebacker Darrell Robertson.Gafford played in nine games for the Chiefs in 2008, while Jackson saw duty in only four games for Kansas City.
continue reading...

Williamson: Move back home is a good thing for the Chiefs
The Chiefs have finalized a plan that will bring them back to Kansas City for training camp starting in 2010.
The team will train at Missouri Western State University in St. Joseph, Missouri. The team and the school came to an agreement on a five-year deal.
This will be Kansas City's last summer in River Falls, Wisconsin. The Chiefs started to train in Rivers Falls, about a 30-minute drive from Minneapolis, in 1991. They were part to the "Cheese League" which consisted of several teams training in Wisconsin. But that fad died out late in the 1990s. The Chiefs now are one of the few teams to train outside of their home state.
<< Previous 1 2 3 4 5 6 7 8 9 10 11 12 13 14 15 16 17 18 19 20 21 22 23 24 25 26 27 28 29 30 31 32 33 34 35 36 37 38 39 40 41 42 43 44 45 46 47 48 49 50 51 52 53 54 55 56 57 58 59 60 61 62 63 64 65 66 67 68 69 70 71 72 73 74 75 76 77 78 79 80 81 82 83 84 85 86 87 88 89 90 91 92 93 94 95 96 97 98 99 100 101 102 103 104 105 106 107 108 109 110 111 112 113 114 115 116 117 118 119 120 121 122 123 124 125 126 127 128 129 130 131 132 133 134 135 136 137 138 139 140 Next >>