If you want to bet on the Chiefs & for all online betting in the USA go to USAbetting.com.


BR: Kansas City Chiefs: Hitting the Reset Button

Along with sports, I enjoy video games also. Have since I was a boy. That being said in video games when you make bad decision after bad decision you can hit the reset button and everything is undone. That's what Kansas city needs now is a reset button.

With a dismal season at the very best their was some bright spots last year...you know like when it ended?

QB: He is overpaid simple... but he isn't Brodie so I'm good with it...simple, Plus Thigpen showed his worth last season i don't care what anyone says he has the talent to start for a good team. The thing is, we aren't a good team...yet.

RB: Larry Johnson has proved himself more of a bother then he is worth, And when he was busy working on his amateur boxing career against women we found out that Charles and Smith might be good enough to carry the rock when we're not airing it out thanks to our newly acquired QB Cassel.

Argos sign Former Chiefs kicker Medlock
Members of the Toronto Argonauts' scouting and coaching staffs recently travelled to the sunshine state where they hosted a series of free agent camps. After evaluating over one hundred participants over several days, the Argos are thrilled to have signed UCLA's second-most prolific scorer of all-time, K Justin Medlock.

Medlock most recently spent time as a member of the St. Louis Rams in 2008 after beginning his professional career with the Kansas City Chiefs as a fifth round pick in 2007. At UCLA (2003-06), Medlock was a four-year letterman and still ranks second on UCLA's career-scoring list with 357 points. As a senior, he earned unanimous First-Team All-Pac 10 honours and Conference Special Teams Player of the Year accolades.
continue reading...

Prisco: Chiefs needs: Fortifying positions around new king Cassel
Have the Kansas City Chiefs found their long-term franchise passer?
Or have they traded for a one-year wonder?
Check back in a year and we'll know if their trade to get Matt Cassel from the New England Patriots answered their problems at quarterback. New general manager Scott Pioli comes from the Patriots, so he will likely build this team the way they did things in New England.

That is, finding tough, hard-nosed players and doing it in secret.
Asked at the scouting combine the type of player he's looking for in the first round with the third overall pick, Pioli gave a Patriots-type answer.
"The same kind of player we're looking for with the 34th pick, that we'll look for in the third round, the fourth round," he said. "Big, strong, tough, smart, disciplined football players. That's the kind of team we're going to build."
We get it, Scott. You will tell us nothing.
That's OK. We'll be watching and waiting, ready to evaluate your every move.
If the Cassel deal doesn't work out, the rest of the moves won't matter. This is a league driven by quarterbacks.
A year from now we'll know if you have one.

Covitz: Curry or an offensive tackle?
A few days before the NFL Scouting Combine, Mike Mayock, the NFL Network draft analyst, projected the Chiefs taking Wake Forest linebacker Aaron Curry with the third overall pick of the draft.
Curry, Mayock said, would be the "safest" pick in the draft.
Less than two weeks from the draft, Mayock still believes Curry, because of his athleticism and intelligence, still has the least risk of any player.
But ... he's not sure the Chiefs will take him.
Here's what he told me today on a teleconference:
"I think Scott (Pioli) can go one of two ways," Mayock said. "One is Aaron Curry. They've got (defensive coordinator) Clancy Pendergast coming in who will did a mixed front at Arizona with both a three-man and a four-man front ...
Williamson: On the Clock: Kansas City Chiefs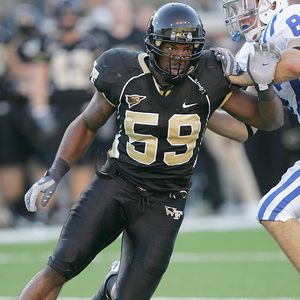 Team needs: Defensive end, linebacker, offensive line, safety.
Dream scenario:
There are two likely scenarios Kansas City will find at No. 3. The Chiefs could easily work within the framework of both. One is that Detroit takes Georgia quarterback
Matthew Stafford
at No. 1, leaving Wake Forest linebacker
Aaron Curry
is on the board when the Chiefs pick. The Chiefs would likely be happy to nab Curry even though they have added four linebackers this offseason. He is the best defensive player on the board and the Chiefs desperately need help in the front seven. Curry is considered one of the safest bets in the draft. He would make an instant impact in Kansas City. The other scenario: The Lions take Curry and Stafford falls to No. 3. This would put Kansas City in a position of strength. Several teams will likely consider moving up to draft Stafford. Kansas City has plenty of needs, so a trade down for additional draft picks wouldn't be the worst idea.
Plan B: If Curry is off the board and if a trade down can't be worked out, the Chiefs may have to look at offensive players. Yes, defense is the team's greatest need but there aren't a lot of great defensive players at the top of the draft. But there are some good offensive players who could provide Kansas City some options. A possibility could be Texas Tech wide receiver Michael Crabtree. He'd make a nice tandem with Dwayne Bowe and give new Kansas City quarterback Matt Cassel a nice group of weapons. Kansas City could also look at tackles such as Jason Smith of Baylor (if he remains on the board) or Eugene Monroe of Virginia. If the Chiefs take a tackle, they could move Branden Albert -- the No. 15 overall pick last season -- to right tackle.
PFT: No Talks Yet Between Falcons And Chiefs For Gonzalez
The Falcons wanted to trade for Chiefs tight end Tony Gonzalez during the 2008 regular season. The Falcons reportedly are still interested in doing a deal.
According to Tom Curran of NBCSports.com, however, no talks have occurred between the Chiefs and the Falcons.
The discussions, if any, would occur between two men who worked together in New England. Chiefs G.M. Scott Pioli was the V.P. of player personnel there, and Falcons G.M. Thomas Dimitroff worked for Pioli as the director of college scouting.
Babb: The Chiefs know what's in store. Now who can they beat?
With all the changes, of personnel and philosophy, it's hard to imagine that the Chiefs will be worse next year than they were in 2008. Or even as bad. That shouldn't happen. Right?
Even without the oddball happenings that doom or energize a team throughout a regular season, the Chiefs have done enough to at least add a few more wins to their 2009 register, and it'll be a little easier to buy that they're on the way back toward respectability -- a familiar refrain last year but one that wasn't terribly easy to swallow amid three-, seven- and four-game losing streaks all packed into one miserable season.
But all that is in the past, and the release Tuesday of the Chiefs' '09 schedule is a reason for hope and optimism. It's also a time to stay grounded, sunshine pumpers, and we're not quite ready to declare Kansas City a playoff team in 2009. Progress will be made. And it'll look a little something like this:

Williamson: Chiefs schedule analysis
Breakdown: The network television suits don't expect much from the Kansas City Chiefs as they begin the Scott Pioli and Todd Haley era. The Chiefs, who have won a combined six games, in the past two seasons, don't have any prime-time games.

If the Chiefs are going to be taken seriously in 2009, they will have to make their mark in the first three quarters of the season. The last playoff team Kansas City meets is the defending AFC West champion Chargers in Week 12. The Chiefs play their final five games against Denver (twice), Buffalo, Cleveland and Cincinnati. The Chiefs' final two games are against the Bengals and the Broncos on the road.

The key for Kansas City is a fast start. Six of Kansas City's first 12 opponents advanced to the playoffs last season, including three of its first four opponents.

Complaint department: The NFC East is widely considered one of the best divisions in the NFL. The Chiefs play all four NFC East teams in consecutive weeks, starting in Week 3. Road trips to Philadelphia and Washington are sandwiched with home games against Dallas and the New York Giants. The Chiefs play only two of their six divisional games in the first half, against Oakland and San Diego.
<< Previous 1 2 3 4 5 6 7 8 9 10 11 12 13 14 15 16 17 18 19 20 21 22 23 24 25 26 27 28 29 30 31 32 33 34 35 36 37 38 39 40 41 42 43 44 45 46 47 48 49 50 51 52 53 54 55 56 57 58 59 60 61 62 63 64 65 66 67 68 69 70 71 72 73 74 75 76 77 78 79 80 81 82 83 84 85 86 87 88 89 90 91 92 93 94 95 96 97 98 99 100 101 102 103 104 105 106 107 108 109 110 111 112 113 114 115 116 117 118 119 120 121 122 123 124 125 126 127 128 129 130 131 132 133 134 135 136 137 138 139 140 Next >>