If you want to bet on the Chiefs & for all online betting in the USA go to USAbetting.com.


DOLPHINS HOLD OFF CHIEFS
Chad Pennington worked more of his magic and now the Miami Dolphins have a chance to win what might be the unlikeliest division title in NFL history.
Pennington engineered an 8 1/2-minute touchdown drive in the fourth quarter as the Dolphins survived an unexpected shootout in frigid conditions to hold off the Kansas City Chiefs.
Pennington capped the 13-play, 85-yard march with a 14-yard touchdown pass to tight end Anthony Fasano that snapped a 31-31 tie with 4:14 remaining.
The victory sets the stage for next week's showdown against the New York Jets at Giants Stadium. With a win, Miami (10-5) will clinch the AFC East following last season's 1-15 finish.
In an ironic twist, Pennington will be matched up against Brett Favre, the quarterback who replaced him in New York.
Today, the Dolphins became the first team in NFL history to reach 10 victories the year after winning just one game.
However, after not allowing a touchdown for three games, Miami's defence was pushed all over the field for 2 1/2 quarters by the lowly Chiefs.
Despite a game-time temperature of 10 degrees and a wind chill of minus-12, the teams put on an offensive show as the lead changed hands six times.
ESPN: Sources: Chiefs coach Edwards not quitting
Herm Edwards won't quit as coach of the
Kansas City Chiefs
, but sources say that with only one year left on his contract, he may not have the energy to embrace a run with a new general manager after Carl Peterson resigned Monday.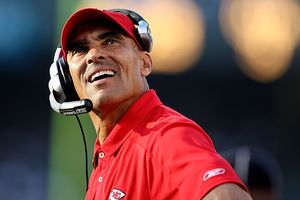 Chiefs owner Clark Hunt has commenced a search for a new GM, saying he has a "long working list" of candidates that he'd like to get to a "manageable" number over the next two weeks before he focuses on an intensive interview process.

Hunt's elimination of Bill Kuharich, the team vice president of player personnel, as a GM candidate already has made Edwards somewhat disappointed about the process, sources said. Also, Edwards has a young family, with two children under 5 years old, and the strain of a season that has resulted in several gut-wrenching losses has taken its toll on him, the sources added. Even though the Chiefs have lost 21 of their last 23 games under Edwards, Hunt told ESPN: "I've been supportive of the job he's done and approach he's made to rebuild the franchise. When we went into this process, we both knew it would be hard but it's been harder than expected.
full story...

Kansas City covets Scott Pioli, too
C'mon, we saw them first.
With Chiefs GM/president Carl Peterson resigning, now Kansas City bloggers and media are campaigning for New England Patriots exec Scott Pioli. Some even toss in CBS analyst Bill Cowher as coach.
So, the Lions have a competitor for their next savior/saviors, eh? Bring it on.
Why would either choose Kansas City over Detroit? Consider what we have to offer:
• There'd be absolutely no pressure following Matt Millen, Rod Marinelli and maybe an 0-16 team. How hard would it be to beat that? The Chiefs already have set the bar pretty darn high with two victories.
• Wouldn't it be great to be the guy who took the Lions to their first Super Bowl? It's a place in history. You couldn't say that in K.C.
Nixon silent on Chiefs' deal
The governor-elect has yet to take a position on a tax credit bundle that brings the Kansas City Chiefs' training camp to St. Joseph.
Jay Nixon's support or lack thereof could play a key role in the proposal's ultimate status.
The Missouri Development Finance Board voted unanimously on Tuesday to approve the $25 million in tax credits to the Chiefs and Jackson County Sports Authority for improvements to Arrowhead Stadium.
The proposal also sends $10 million to Missouri Western State University for a new indoor practice facility that's slated for the Chiefs' three-week summer training camp for possibly 10 years, beginning in 2010.
Since the tax credits exceed the board's $10 million cap, approval in early 2009 is needed from three of the new administration's cabinet members to seal the deal — the directors of agriculture, economic development and natural resources.
Dolphins face big challenge in Chiefs' Tony Gonzalez
The Dolphins will line up against arguably the best tight end in NFL history Sunday when they face Tony Gonzalez and the Kansas City Chiefs.
A future Hall of Famer, Gonzalez ranks fifth in the AFC this season with 84 receptions. The next most productive tight end has been Indianapolis' Dallas Clark, who had 63 entering Thursday's game at Jacksonville.
For his career, Gonzalez ranks first in NFL history among tight ends in receptions (904), receiving yards (10,823) and TD receptions (74).
Coach Tony Sparano said one thing that makes Gonzalez so hard to defend is that the Chiefs move him around on almost every play.
"The guy rarely lines up as a tight end," Sparano said. "He can be the widest on the field, he can be in the slot, he can be in the backfield. He can do a bunch of things that way. He's very difficult to defend, just to get the matchup you want on him."
Dolphins undaunted by big chill in K.C.
Dolphins clearly took advantage of playing the Bills in the cozy confines of the Rogers Centre dome in Toronto a few weeks ago instead of frigid Buffalo.

Those breaks are over as the 9-5 Dolphins prepare for a projected 12-degree afternoon Sunday at Arrowhead Stadium in Kansas City against the reeling 2-12 Chiefs.

"They were always there in a sea of red,'' said Dolphins defensive end Vonnie Holliday, who played for the Chiefs from 2003-04. "That place is a wild place to play.

"We used to say . . . if we could jump up on [teams from Florida] early they'll want to jump back on the bus and get back to that warm weather.''While the Chiefs are just 1-6 at home this year, they're 21-5 at Arrowhead in December since 1995. The Dolphins are just 4-10 in cold-weather venues in December over the past 10 years, and they haven't beaten the Chiefs in Kansas City since 1981. However, they're only 0-3 during that span.
full story...
The
Jared Allen Dislikes Carl Peterson and Wishes He Could Have Fought Gosder Cherilus
Jared Allen plays the game of football in a pretty intense fashion. Therefore, I tend to think it's fairly unsurprising to find out that he's pretty outspoken. Of course, that doesn't mean I thought he would get on Sporting News Radio and unleash on Carl Peterson. But he did! (Translation props to SbB.)

Tim Montemayor: "What are your thoughts about Carl Peterson leaving the Chiefs organization?"

Jared Allen: "(laughing) Later!"

TM: "Come on, is there no love loss there?"

JA: "Absolutely not, you know what I'm saying? I believe in karma. Good things happen to good people. I'll leave it at that."

I can't tell you just how freaking awesome that "karma" chatter is (although Matt Schaub can probably say better than I ...) considering that Allen nearly lost his leg against the Lions shortly after taking what some would call cheap shots at Schaub, when Gosder Cherilus went after him on one of the biggest low blows I've seen in a while. But if Allen had his way, no one would have held him back after the play and there would have a rumble.

"I guess everybody's telling me I should thank Ray Edwards for holding me back. I wish nobody would have held me back and we could have settled this thing right then and there."
more...

Chris Mortensen: "[New GM] Probably won't be an insider..."
<< Previous 1 2 3 4 5 6 7 8 9 10 11 12 13 14 15 16 17 18 19 20 21 22 23 24 25 26 27 28 29 30 31 32 33 34 35 36 37 38 39 40 41 42 43 44 45 46 47 48 49 50 51 52 53 54 55 56 57 58 59 60 61 62 63 64 65 66 67 68 69 70 71 72 73 74 75 76 77 78 79 80 81 82 83 84 85 86 87 88 89 90 91 92 93 94 95 96 97 98 99 100 101 102 103 104 105 106 107 108 109 110 111 112 113 114 115 116 117 118 119 120 121 122 123 124 125 126 127 128 129 130 131 132 133 134 135 136 137 138 139 140 Next >>