If you want to bet on the Chiefs & for all online betting in the USA go to USAbetting.com.


AFC West: Do Chiefs Have Worst-to-First Potential in '09?

Once the 2009 NFL free agency period and Draft are in the books next spring, the pundits will formally begin searching for their next potential rags-to-riches story.

Every year the league seems to produce a team that comes out of nowhere to climb the NFL ladder, and identifying who that club or clubs will be has become a kind of sport within the sport.

The pundits usually whiff on locating the rising stocks, however. I mean, did anyone think the Dolphins and Falcons, who combined for a 5-27 record last year, were primed for runs toward the postseason in 2008?

Still, there will be an easily identifiable group of also-rans to choose from when the next would-be Cinderella candidates are chosen, and the Kansas City Chiefs should be prominent within this group.

Kansas City, which snapped a seven-game losing streak with a 20-13 win at Oakland this past Sunday, is 2-10 and might not win again in 2008. The defense has been historically horrific in a number of categories (an aside: which of the Chiefs' six sacks on the year has been your favorite?), and four different quarterbacks have thrown passes for a team nearly certain to come away with another top-five pick in next April's Draft.

Still, there are several promising developments that could lead an observer to make a case for Kansas City's possible quick ascendancy to competitive status.

A Chiefs fan's descent into the Black Hole

I've bungee jumped. I've skydived. I've been on crazy Canadian cross country skiing expeditions. I've played Jackass: the Home Version. I've moved around like a nomad with ADD. Tats cover about 10 percent of my body. Basically, I'm a pretty crazy dude. Mile High Club, Polar Bear Club and every nightclub from the City of Angels to the MIA. I'm kidding of course, but it's not too much of a stretch.

I'm getting older -- I'm more like Johnny Carson nowadays than Johnny Knoxville -- but I definitely walked on the wild side during the first 30 years of my life. Nothing I've ever done, however, has been more dangerous than what I did this past Sunday.

I ventured into the Coliseum for the sold out Kansas City Chiefs-Oakland Raiders game decked out from head to toe in Chiefs apparel. Bright red jersey. Bright red hat. I'm 6-foot-3, too, so I definitely stood out.

Appropriately enough given the season, I felt like Rudolph. Except in this "Tales from the Hood" version of the classic holiday fable there were roughly 60,000 black-nosed reindeer. These Santa's helpers weren't just drinking milk with jolly old Saint Nick either. North Poles? Only in prison cells and strip clubs. As for me, I was Adam the Red-Jerseyed Fan, except my story appeared to be a tragedy instead of a comedy.

Chiefs take shots against Asomugha
The Kansas City Chiefs were the only team that really tested Raiders cornerback Nnamdi Asomugha in Oakland's first 11 games. They went right after Asomugha again Sunday.
Chiefs quarterback Tyler Thigpen completed an 11-yard pass to tight end Tony Gonzalez in the first quarter, with Asomugha in tight coverage. Thigpen later connected with Gonzalez for 23 yards and a first down. Two other times, passes to Gonzalez missed the mark with Asomugha covering.
Asomugha entered Sunday's game with only 10 passes thrown his way during the first 11 games. Teams completed three of those for 13 yards. Three of those first 10 passes directed at Asomugha came during the Raiders-Chiefs game Sept. 14. Four times teams attempted no passes against Asomugha.
"I knew it was going to happen," Asomugha said, "because the last time I played against Tony, they still wanted to throw to him. But, man, he's a big body. It's a tough cover regardless who's going to be on him. Then, you see the stats at the end of the game: eight catches. It didn't matter what we did."
Indeed. Gonzalez caught eight passes for 110 yards overall, which almost matched the production of all of Oakland's receivers (10-132).
Williamson: Rapid Reaction: Chiefs 20, Raiders 13
So much for that late playoff push from the Oakland Raiders.
After the Raiders' impressive win at Denver last week, a few Oakland players said they were still in the race. That talk must end now.
The Raiders followed up their surprising win at Denver with an equally surprising loss to Kansas City on Sunday. As fired up and effective as it was last week in Denver, Oakland was as flat and lackluster against the Chiefs. Oakland is now 3-9. It is not going to the playoffs.
But it is back on track for having the worst six-year stretch in NFL history. If Oakland loses two more time this season it will become the first team in league history to register six straight 11-loss seasons.
While the loss to Kansas City is a killer for Oakland. the win over the Raiders is a rare bright spot for the Chiefs who won for the first time since Week 4. It is just Kansas City's second win in its last 21 games.
Chiefs beat Raiders 20-13
Tyler Thigpen put together one effective drive for Kansas City to beat the Oakland Raiders in a matchup between two of the NFL's worst teams.

Thigpen engineered a 91-yard drive that was capped by Larry Johnson's 2-yard tiebreaking touchdown run early in the fourth quarter to lead the Chiefs to a 20-13 victory Sunday for just their second win in their last 21 games.

Kansas City (2-10) scored its first touchdown on Maurice Leggett's 67-yard fumble return on a botched fake field goal by Oakland (3-9).

With the Chiefs locked in a 10-all tie and backed up to their own 9 following a punt, Thigpen got the offense moving to earn his first win in seven career NFL starts. He got Kansas City started with a...
Chiefs and their coaches facing uncertain future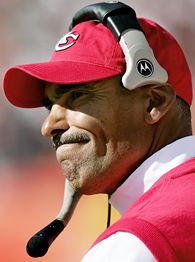 When told his name was popping up in connection with the vacant coaching job at San Diego State, Kansas City Chiefs coach Herm Edwards delivered a glib and funny reply.
"I've got a college team right now that I'm coaching," the embattled leader of the very youthful and 1-10 Kansas City Chiefs said with a laugh. "Next question."
Asked again, he repeated the same line and the matter was dropped.
But given an opportunity the next day to put an end to any speculation his non-denial might fuel, the third-year Chiefs coach had even less to say.
"I'm just not talking about that at all," he said.
So might Edwards be inclined to give serious thought to leaving the NFL and returning to San Diego State, where he graduated in 1976? Or was he simply laughing off an idea that seemed preposterous?
Could he be leaving his options open because Chiefs owner Clark Hunt is losing patience with a coaching staff that's 1-19 since a year ago last October?
That, too, is not known. Since July, Hunt has mostly avoided speaking with the media, promising to sit down with individual reporters at the end of this season as he did at the end of last season. In the two times he has spoken publicly on the Chiefs, Hunt has expressed support for Edwards and his staff.
E-mails last week and this week to Hunt's personal assistant requesting an interview were not answered.
Chiefs QB Thigpen's mobility is a threat
The Kansas City Chiefs had all the makings of a pitiful offense when they played the Raiders on Sept. 14.

They were down to their third quarterback, Tyler Thigpen. He looked the part of a third-string signal caller when he completed 14 of 33 passes with a touchdown and an interception in the Raiders' 23-8 win. The Raiders won't see the same Thigpen when they host the Chiefs on Sunday.

"They're 180 degrees different offensively because of Thigpen," Raiders interim coach Tom Cable said. "He's a tremendous threat to run the ball."

Thigpen has rushed for 203 yards this season. He has thrown for 1,577 yards with 13 touchdowns and seven interceptions. Eleven of his touchdowns have come in his past five starts. Thigpen is in his second season out of Coastal Carolina and had played in only one game before facing the Raiders in September.
ESPN on Brian Waters Being One of the NFL's 'Big Men'
Brian Waters dreads the travel days. When Herm Edwards became coach of the Kansas City Chiefs three years ago, the old-school coach implemented a rule requiring players to dress up for plane rides. Waters was getting ready for a trip to San Diego recently when he realized he'd blanked on part of his pregame preparation. He didn't have a button-down dress shirt to wear.

If the gaffe had happened to Rocawear-ing running back Larry Johnson or GQ tight end Tony Gonzalez, it could have been solved in a matter of minutes with a quick dash to a trendy mall. For a 6-3, 320-pound guard, there are no dashes. Waters has trouble finding shirts that will accommodate his 23-inch neck, and has questions a skill player rarely has to ask. Can he fasten the top button so he can put on a tie? Can he find the top button?

"It's horrible," Waters says. "I'd rather be comfortable than look good."

Away from the team charters, flying commercial is a whole different headache. One middle seat can ruin three people's day. The average coach seat is between 17.2 and 18 inches wide; the average big man's "seat" comes in all sizes. Limbs spill over into foreign territory; personal space is violated.

When Waters is stuck on one of those last-minute flights, he hopes he can board before A and C and stake claim to both armrests. And then there's Rule No. 2 of coach travel, big-man style: Avoid eye contact once you step on the plane.

"People kind of look at you and look away," Waters says. "They don't give you an inviting look. They don't want you to pick their row."

<< Previous 1 2 3 4 5 6 7 8 9 10 11 12 13 14 15 16 17 18 19 20 21 22 23 24 25 26 27 28 29 30 31 32 33 34 35 36 37 38 39 40 41 42 43 44 45 46 47 48 49 50 51 52 53 54 55 56 57 58 59 60 61 62 63 64 65 66 67 68 69 70 71 72 73 74 75 76 77 78 79 80 81 82 83 84 85 86 87 88 89 90 91 92 93 94 95 96 97 98 99 100 101 102 103 104 105 106 107 108 109 110 111 112 113 114 115 116 117 118 119 120 121 122 123 124 125 126 127 128 129 130 131 132 133 134 135 136 137 138 139 140 Next >>