If you want to bet on the Chiefs & for all online betting in the USA go to USAbetting.com.


Former Chiefs linebacker returns with ring in hand
Kawika Mitchell feels no need to gloat upon returning to Kansas City this week as a member of the Buffalo Bills.
A second-round draft pick of the Chiefs in 2003, and a starting middle linebacker for most of his four seasons with the team, Mitchell was a little hurt when he didn't get what he considered a suitable contract offer upon becoming a free agent in 2007.
His pain was salved by spending last season as a starting linebacker for the Super Bowl champion New York Giants.
"Obviously it worked out well that I was able to contribute to a team that won the championship," Mitchell said Wednesday.
"I have no hard feelings. It will be fun to come back to Kansas City where I got my first opportunity, where the fans were always good to me. It's a place I called home for four years."
And about that temptation to gloat just a bit?
"I thought about that, but I'll just play it smart," Mitchell said. "But that doesn't mean I won't have my big, shiny (Super Bowl) ring on when I come to town. But I won't rub it in.
"This is a business, and they made a business decision. But obviously mine worked out better."
Teammates honor Kansas City's Huard
The Chiefs have named injured quarterback Damon Huard their 2008 recipient of the Ed Block Courage award.
Players for each team vote for a teammate. The 32 team winners are honored at a March banquet in Baltimore. The award is named in honor of longtime Colts athletic trainer Ed Block.
The award goes to a player who displays courage and toughness. Huard has been with the Chiefs since 2004 and had an excellent season in 2006. He was starting this season as an injury replacement for Brodie Croyle but Huard was injured himself and put on injured reserve.
Living Scared: Branden Albert
Once I signed that rookie contract, the number went right on the front page. I bet people think: This kid was a first-round pick. He's young, dumb and spending money wildly—let's go after him. That is scary.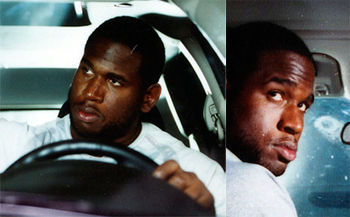 Security was one of the first things the Chiefs talked to us rookies about. They told us what to do, where not to go, what not to do. The league can do background checks on people, so there's a lot of help. But you also have to grow up quickly. There are places I used to go that I can't go to now. And I gotta watch myself when I come out of a nightclub, to see if anyone is following me. This is my new life—the life I wanted—so that's how it goes.
You can't blame the victims. It's a free country. If a guy wants to wear a big necklace, he's earned that. People might say, "Don't wear that flashy stuff." But should he have to dumb down his lifestyle because other people are trying to get at him? That's not right.
Chiefs taking losing hard
And he's only been with the Kansas City Chiefs since Oct. 15.
A veteran who played for a Super Bowl champion in Indianapolis and in an AFC championship game with Tennessee, Boiman wasn't here this past year when Kansas City started the nine-game season-ending losing streak that extended to 12 after an 0-3 start this year. But he can appreciate the frustration of Chiefs veterans like Tony Gonzalez and Brian Waters who played for a 13-3 team in 2003, but now have been losers in 18 of their last 19 games.
"It's disappointing because we thought we were making strides in the last couple weeks," Boiman said after Sunday's 30-20 home loss to New Orleans dropped Kansas City to 1-9. "But everybody is sick of talking about the strides we're making. We just need to win a damn game."
Williamson on Dorsey and Albert
Brandon Albert
:
Kansas City, offensive tackle, No. 15 pick:
Albert has been solid. He isn't as good as Clady, but he did productive and appears to have a nice career ahead of him at left tackle. He has overcome early injury issues and has become a solid starter for the Chiefs. He appears to be a very good pick.
Glenn Dorsey:
Kansas City, defensive tackle, No. 5 pick:
Dorsey started slow, and he's probably the biggest disappointment, production-wise, of the AFC West first-round picks. This guy was expected to be an impact player on Kansas City's defense. It hasn't happened yet as he has been slow to produce. He has 29 tackles in 10 starts and he hasn't had a game with more than five tackles. But this LSU product is way too much talent to end up being a bust. I believe he will eventually produce.
source...
Chiefs are sinking in pool of injuries
The past four weeks have seen the injury-battered Kansas City Chiefs lose after taking a lead.

And special teams breakdowns have contributed to all four losses.

The defense has been hardest hit with injuries. But special teams also have suffered with a host of new players on punt and kickoff units every weeks.

Special teams captain Jon McGraw says injuries can't become an excuse.

But he acknowledges the situation is challenging.

He says it's one thing when one or two players are out with injuries. But he says it's different when there are four or five positions on the special teams units that are completely different from the week before.

full story...
KC's special teams sinking in pool of injuries
Chiefs special teams coach Mike Priefer can't help himself when making comparisons between coaching in the NFL and commanding military aircraft.

Priefer draws one parallel between piloting Navy helicopters in the Persian Gulf and coaching special teams for the injury-plagued Kansas City Chiefs.

''When you're in the military, you're given the resources and told to get your job done,'' said the graduate of the U.S. Naval Academy, his jaw hardening. ''It's the same thing here. As special teams coach of the Chiefs, here are my resources. We're told to get our job done. We haven't been doing that lately.''

With players shuffling in and out and secretaries hardly able to keep up with the paperwork on almost three dozen player transactions, the past four weeks have seen the Chiefs (1-9) lose four games after taking a lead. The losses included one in overtime and one on an errant 2-point conversion try.

A defense missing at times as many as six injured starters has been the most glaring problem. As of last Thursday, the Chiefs had a staggering 34 player transactions the previous three weeks while integrating various former players and league castoffs into the system.

Priefer's special teams have struggled. With all the new players on punt and kickoff units every week, special teams breakdowns have contributed to every one of the last four losses.

''We can't make injuries an excuse to ourselves,'' said Jon McGraw, the captain of the special teams. ''But I don't think even during a game we've kept the same whole unit together.''
Chiefs, 1-18. YIKES!
While trying to think whose picture best represents the word "loser", I decided my man, Al Bundy, is perfect. I once thought seriously about a personalized license plate that just said ALBUNDY, but decided my wife probably would prematurely disown me. In any event, at least Al Bundy was funny. Watching the Chiefs isn't ... unless, of course, you are a Broncos' fan – and then it is friggin' hilarious!
I decided to look at the all-time worst NFL records (since the merger in 1970) for any 19 game stretch. If you haven't figured it out by now, KC is on the list. Also, I thought I would come up with some good news for each of these clubs at the end of their streak. Why? Just to give Chief addicts some hope.
There are 10 examples of 1-18 or worse and a dozen examples of 2-17.
<< Previous 1 2 3 4 5 6 7 8 9 10 11 12 13 14 15 16 17 18 19 20 21 22 23 24 25 26 27 28 29 30 31 32 33 34 35 36 37 38 39 40 41 42 43 44 45 46 47 48 49 50 51 52 53 54 55 56 57 58 59 60 61 62 63 64 65 66 67 68 69 70 71 72 73 74 75 76 77 78 79 80 81 82 83 84 85 86 87 88 89 90 91 92 93 94 95 96 97 98 99 100 101 102 103 104 105 106 107 108 109 110 111 112 113 114 115 116 117 118 119 120 121 122 123 124 125 126 127 128 129 130 131 132 133 134 135 136 137 138 139 140 Next >>